I have to admit, this one almost did me in. I was sitting here thinking that all of these letters (except the dreaded X) should be easy, and then I hit Q and was stumped. Off the top of my head, I couldn't think of ANYTHING that started with Q. So, I looked up Q in a dictionary, trying to see if any of the words stood out as something from my childhood...and then the ideas hit, one after another.
Quiet Riot - while never a huge fan of the band, I do love the Mental Health song, which I first heard on Footloose. Still love the song!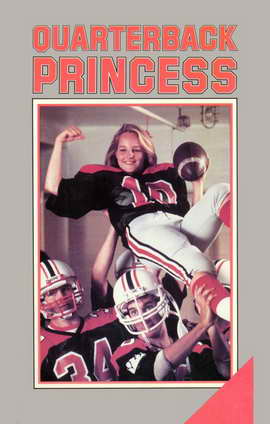 And then this fab movie with Helen Hunt about a girl who wants to play quarterback on the football team and faces all kinds of obstacles and roadblocks by the people thinking it's just not right. Of course, by the end of the season, most people have fallen for the little darling and she's elected their homecoming princess, right before her family moves away. Yes, I'm slightly mocking the storyline, but it's still a really good movie that I enjoy watching. Definitely challenges the preconceived gender roles still prevalent in the 80s (some still today).
And then there's Quasar. While I can't say I loved this game, I can say that I used to play it obsessively when my mom and dad used to have their bowling league nights and they brought me and the sis with them. What else was there to do with 2 hours of my night?
Thanks for stopping by!